I almost named this one "Rustic", but the scent suggests a bit of sophistication as well, so I went with "Chivalrous".  This scent is identical to the popular "Nautical" soap that was in stock last year (perhaps I'll bring that one back someday, but not at this moment).
This is a great choice scent for the men shopping here, or the women shopping for the men in their lives. There is another good "man soap" in stock right now too, called, "Bay Rum and Tobacco", should you be looking for variety. Of course, there are other great soap bars throughout the store for both men and woman alike, but these two choices are especially geared for men.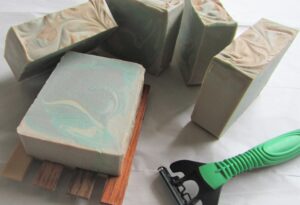 This soap bar contains saponified oils (coconut, canola, olive, and castor) and butters (cocoa, shea), fragrance oil, mica powder, and titanium dioxide.
These particular soap bars weigh 3.7 or more (sometimes they can weigh higher than 4 oz.). Our soaps are poured and cut by hand, making it impossible for them to each weigh exactly the same.
This listing is for ONE soap bar, although you can order multiples if you'd like. The photos are for presentation, and the props are not included.