This soap smells so soft and lovely! Cinnamon Rain Goats Milk soap features a blend of both fragrance oil (for the "rain" scent) and cinnamon essential oil. Additionally, it is speckled with nutmeg, cinnamon, and even goat milk powder bits that "burned" in various places, giving this soap it's unique appearance and "story-to-tell". Lastly, I love when I get to mark soap with a stamp — it just really adds something to it! So nice.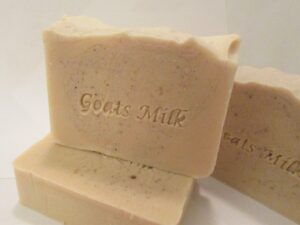 This soap bar contains saponified oils (coconut, canola, olive, castor) and butters (cocoa, shea), as well as fragrance oil, cinnamon essential oil, goats milk, titanium dioxide, nutmeg, cinnamon & sugar.
These particular soap bars weigh anywhere from 3.7 oz. to 4.5 oz. (Most of them weigh above 4 oz.). Our soaps are poured, textured, and cut by hand, making it impossible for them to each weigh exactly the same.
Please note, this listing is for ONE bar only, although you may buy multiples. The photos are for presentation. Props not included.