French Vanilla Coffee Bean Soap as a Gift
Please welcome a NEW coffee soap! This one is smooth, and smells nice. The beauty of it, is the artful touch on the top, with soap piping and coffee bean soap embeds — truly a unique soap bar and also serves as a great gift!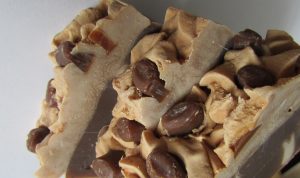 Some Like Floral; Some Like Foodie
It's true, not everyone is into the floral soap scents. We have found that some really like "foodie" scented options such as Oatmeal, Milk and Honey Soap (which will be restocked soon) and Mocha Espresso Coffee Scrub Soap (also presently on the curing rack). We are so excited to present this new French Vanilla Coffee Bean Soap to you for this reason and because this one is so artistic!
Why Choose Lathers Handmade Soap?
Regular soap bars that you find in supermarkets are typically made in a way that can leave your skin feeling "crispy" and dry. Those common soaps tend to strip your skin of good moisture. We don't want this for you. It can be rough on your skin, especially after years of repetitive use, and whenever autumn and winter roll around, many people are more prone to itchy and cracking skin. Ouch!
Handmade soap is made with the ingredients that your artisan soap maker chooses to use. Here at Lathers for Life, we have chosen oils in a particular blend that will leave your skin feeling nurtured and moisturized.
Ingredients in French Vanilla Coffee Bean Soap:
This soap bar contains saponified oils (coconut, canola, olive,  castor) and butters (cocoa, shea), as well as fragrance oil, titanium dioxide, and cocoa powder.
These particular soap bars weigh anywhere from 3.9 oz. to 4.5 oz. (most of them above 4 oz.). Our soaps are cut by hand, making it impossible for them to each weigh exactly the same.