Goat's Milk Soap is Here!
But it's not only the goat's milk soap that's so new an offer around here: it's the fact that we will now be offering — more than ever before — soap in extra special designs — oh, I'm so excited! Here are these fun "love bird designs" (yeah, my brother says that the look like mustaches — ha! I can see that too — but they are love birds…).  Not only are these pretty soaps now available, but many more options will be ready for you soon, especially by Christmas time.
Gentle & Sweet Goat's Milk Soap
"Gentle & Sweet Goat's Milk Soap" may very well be my favorite scent of all the goat's milk soaps here so far! It's a really nice scent and I will keep this one coming for a while, so long as my customers are enjoying it too!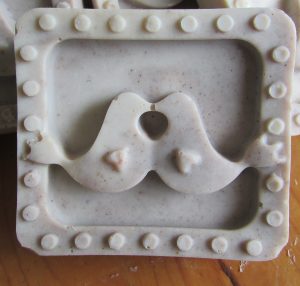 This listing is for that "gentle & sweet" scent in the "love bird design", plus I will be soon offering it in a regular bar (starting around November 1st, 2021). For now, we have them in this listings style and I trust you will love it too!
This soap bar contains saponified oils (coconut, canola, olive, castor) & butters (cocoa, shea), goat's milk, fragrance oil, alkanet root, & titanium dioxide.
These particular soap bars weigh anywhere from 2.7 oz. more or less.
Please note, this listing is for ONE bar only, although you may buy multiples. The photos are for presentation. Props not included.