Wake Up Fresh Goat's Milk Soap!
"Wake Up Fresh" seemed an appropriate name for this brightly orange fragrance-scented soap. The fragrance I used for it is called "Orange and Patchouli". After giving it a sniff, I personally thought more of an orange lollipop. All-in-all, this bold and sweet soap, is a winner! Good for all: men, women, and children!
This soap bar contains saponified oils (coconut, canola, olive, castor) & butters (cocoa, shea), goat's milk, fragrance oil, moringa powder, & titanium dioxide
These particular soap bars weigh anywhere from 3.7 oz. to 4.5 oz. (Most of them weigh above 4 oz.). Our soaps are poured, textured, and cut by hand, making it impossible for them to each weigh exactly the same.
Please note, this listing is for ONE bar only, although you may buy multiples. The photos are for presentation. Props not included.
Other Goat's Milk Soap Options Available:
If you love goat's milk soap, you may also like to try the other two new options in our shop: Sunshine & Spice Goat's Milk Soap and Gentle & Sweet Goat's Milk Love Bird Soap.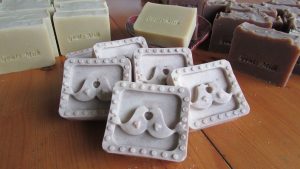 …and more to come!