Another "Shimmering" Soap in Our Collection!
Yay! Japanese Cherry Blossom is the second "shimmering" soap in the shop (more to come). The beauty is not only in the bio-glitter that gives it a fun finishing touch, but in the soap piping, which is done much like cake decorating. It takes extra time and equipment, but produces something pretty and interesting. Not to mention that it makes an unique gift.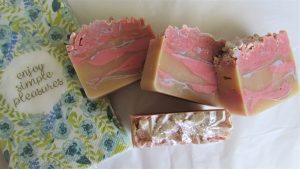 What does this scent smell like?
Hmmm… it's not baby powder; it's more like musk — yes, that probably is a good description. Maybe reminiscent of cherry almond scent, minus the almond? I'd love to hear how you describe this scent when you review it! It's a nice scent for men or women alike. Mature.
I am sure that you will really like this soap, and if this first batch produces 5-star reviews, I will continue to make it and keep it in stock for you!
To review, simply scroll to just below it's photos, click on "Review" and there you can leave your review. It will post after I see it and approve it (I do it this way, to prevent spam, etc.).
Ingredients:
This soap bar contains saponified oils (coconut, canola, olive, castor) and butters (cocoa, shea), as well as fragrance oil, titanium dioxide, mica powder, and bio-glitter.
These particular soap bars weigh anywhere from 3.7 oz. to 4.5 oz. (Most of them weigh above 4 oz.). Our soaps are poured and cut by hand, making it impossible for them to each weigh exactly the same.
This listing is for ONE soap bar, although you can order multiples if you'd like. The photos are for presentation, and the props (if any) are not included.