Step into the garden and smell the roses! Here is a perfect scent for anytime of the year. This handmade soap bar is classic, pleasant in scent AND color, clean and happy! Enjoy in the shower or at the sink for each hand washing. As always, Lathers for Life handmade soap is gentle as it cleans, leaving behind a touch of good oil to soothe your skin. Skin-loving soap is so necessary, especially when we are all washing our hands so often!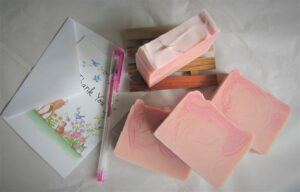 This soap bar contains saponified oils (coconut, canola, olive, and castor) and butters (cocoa, shea), fragrance oil, mica powder, and titanium dioxide.
These particular soap bars weigh 3.7 or more (sometimes they can weigh higher than 4 oz.). Our soaps are poured and cut by hand, making it impossible for them to each weigh exactly the same.
This listing is for ONE soap bar, although you can order multiples if you'd like. The photos are for presentation, and the props are not included.