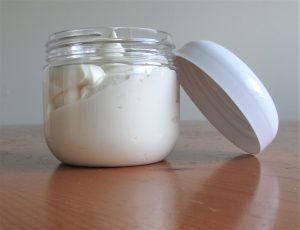 Mango body butter is here for a limited time. I made a small batch. I love it, and it may be a regular in the future — we will see! This batch of mango body butter was fluffy, but then "fell" in the process, making the result dense (heavier) but nourishing none-the-less. This lovely body butter is scented with ylang ylang, lavender, and bermagot essential oils! So nice! Grab one while they are available and let me know what you think!
A rich blend of mango butter, cocoa butter, shea butter, grape seed oil (rich in vitamin E), and essential oils (ylang ylang, lavender, and bergamot).
Make your skin happy while enjoying a soothing, calming pleasant aroma.
Large size: 3+ ounce