Cotton doilies for underneath soapdishes are perfect for catching water drips while also looking nice. I got the idea from the personal experience of always finding water on my bathroom counter. Constantly, I needed to wipe the counter down if I wanted it to look nice. One thing that helped, was putting a washcloth underneath the soapdish. That worked out alright, but it looked — I dunno.
Well, one day recently, I had the idea to make these pretty (yet practical) doilies that are made with thick cotton yarn. The idea worked out really well! All I need to have is about 3 doilies on hand so that I can keep one clean doily underneath at all times. Changing it once a week, or once every other day (depending on the bathroom "traffic") is going to work out nicely! When I'm done, I just drop it in the laundry! Plus, changing doilies allows for a change in colors. Win, win, win!
This listing's variation has purple trimwork with a cream or off-white center. It also measures at 9 inches across, making it longer than a standard size soap dish (see pictures). Excellent for picking up water drips!
This listing is for ONE brown and grey/cream doily. Other props in photos are for presentation only. The soap in this presentation can be found HERE: Chocolate Ganache Goatmilk Soap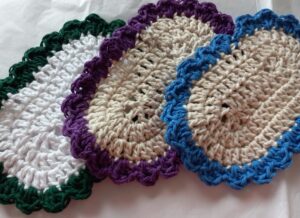 Keep checking back for more colors as I add them to the inventory.
We'll have your home looking like a bed and breakfast!