Recently, my mom came to visit me. While she was visiting, we made some soap together. She was excited to make it with essential oils and to give it as strong and long-lasting a scent as possible. She enjoyed choosing this beautiful purple color, and then generously patting in lavender buds on the top. I say we have a pretty nice result here! What do you think?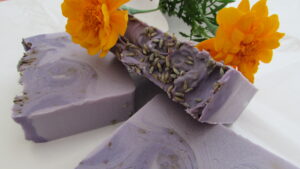 This soap bar contains saponified oils (coconut, canola, olive, castor) and butters (cocoa, shea), lavender & other essential oils, titanium dioxide, mica powder & lavender buds.
These particular soap bars weigh anywhere from 3.7 oz. to 4.5 oz. (Most of them weigh above 4 oz.). Our soaps are poured, textured, and cut by hand, making it impossible for them to each weigh exactly the same.
Please note, this listing is for ONE bar only, although you may buy multiples. The photos are for presentation. Props (such as flowers) are not included.