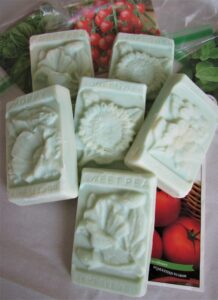 Woo-hoo! Look at the newest addition to the shop:
This soap design is SO FUN! I love spring and summer gardening, so when I saw the molds that create soap to look like seed packets, I couldn't resist! These are a labor of love as I poured them many months ago and left them alone for this special spring season!
These unique soap bars will add a beautiful touch of art to your sink for a time, and the scent is amazing! In fact, it is very close to "The Basil Bar" scent and ingredients. The blend of fragrance oils and essential oils create the perfect garden and kitchen delight, as it boasts of black pepper, basil, and parsley with lemon seed.
Super nice!
Check out SEED PACKET SOAPS in the shop!