There is something so soft and pleasant about this soap, reminiscent of the summer seaside breeze. Think of your feet in the warm sand. Enjoy the vacation and the warm sunshine! Well, okay, maybe that's an exaggeration, but these are pretty nice! (Please note that this soap listing is for the blue and white "Sea Breeze" soap only and that the sea shell soaps are picture props only.)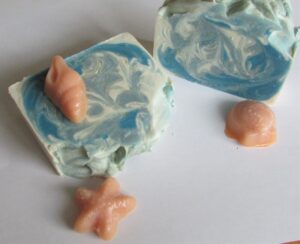 This soap bar contains saponified oils (coconut, canola, olive, castor) and butters (cocoa, shea), as well as fragrance oil, titanium dioxide and mica powder.
These particular soap bars weigh anywhere from 3.7 oz. to 4.5 oz. (Most of them weigh above 4 oz.). Our soaps are poured, textured, and cut by hand, making it impossible for them to each weigh exactly the same.
Please note, this listing is for ONE bar only, although you may buy multiples. The photos are for presentation. Props not included.