Beautiful Soaps Are On Their Way…
(Coming at the end of June)
Here's a sneak peak of soap bars that are presently curing on the soap racks:
Take a look at that French Vanilla and Chocolate Coffee Soap with Coffee Bean-Shaped Soap Embeds! Soap doesn't have to be just-for-cleaning — it's art, and relaxation too, as you see it, wash, and take in the scent! Ah, lovely artisan soap.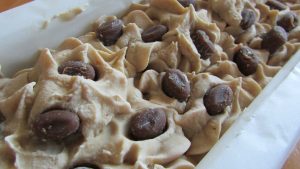 ---
Oooohh! Shimmers! Look at these 4!
Left to right: Japanese Cherry Blossom, Cucumber Melon in Red, White and Blue (sorry to be a tease, but that one is a custom order), Shimmering Lilac (smells so good!), and that last soap doesn't have a name yet, but it smells like Irish (rhymes with "ring") soap. 😀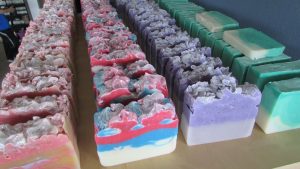 ---
But the following are available now:
While those soaps (pictured above) are curing and not available just yet, there are lots of other choices to shop from now. Recently, a batch of Black Raspberry Vanilla Soap was made available again. This scent is so happy, friendly, and "juicy" so-to-speak. It is a must try!
I'm almost out of the lavender fragrance from a particular source, so the fragrance may change a bit with future batches. If you liked this one, you might want to stock up. The future Lavender Swirl Soap will be nice too, but as I said, the source of scent will change a few times until I find my new source. Last checked, I have 8 bars left.