Back in the day (you know, the one where I was a kid?), I vaguely remember that my uncle had some charcoal handy to draw out a bee sting's poison, if needed. I don't know how he used it, whether he mixed it with something to make a paste or just applied it to the skin dry? I really oughta ask him sometime, because I think it would work!
I also recall growing up with a tube of black paste in the medicine cabinet. My mom called this paste "drawing salve", and I remember that it came in handy, again and again. A little went a long way. I pretty much remember that if we had a tiny splinter in our finger, which was impossible to remove with tweezers, we would put this "drawing salve" on that spot and cover it with a bandage. We really had little to worry about after that, because the splinter would sort of "disappear" after awhile. When I think about it, I'm not sure if they sell that wonderful paste anymore, but I remember that our little tube lasted for years! Looking back, and knowing what I know now about charcoal, I would not be surprised if that that black paste was actually a charcoal paste! (I've since asked my mom about it, and she said that it might have even been a tar-based paste — either is a possibility.)
What A Friend Shared With Me About Charcoal
Well, moving forward to the present, I have learned that there are definite benefits to using charcoal. I have a friend who suffers with stomach issues and personally finds charcoal very helpful at times. I asked her more about it and she was happy to share! She deals with IBS and acid reflux, and finds that if they cause her to have nausea, the pill form of activated charcoal (the dosage is explained on the bottle) helps significantly. And if she has just a regular "stomach bug", activated charcoal has also helped to shorten what the illness was expected to do — at least in her experience. I haven't personally tried it, but I'm now intrigued.
Since charcoal is effective in absorbing, it absorbs toxins in the stomach, which is why my friend finds it useful. (Please note that it also can absorb vitamins and minerals too unfortunately, so it is NOT to be used daily. Rather, think of it as an "as needed" type of treatment.)
Needless to say, I have a pretty smart friend to glean wisdom from. Perhaps, she first learned about the benefits of charcoal from the days when she was a vet? She told me that they used to give the charcoal to the pets who swallowed a certain type of poison (it works for some types of poison, but not all).
Where does activated charcoal come from?
It starts as plain charcoal, first produced from a variety of possibilities, which may include coconut shells, peat, and olive pits, for example, and is then "activated" by processing the charcoal at very high temperatures. The high temperatures change the structure of the charcoal, making it absorbent and able to bind to toxins. This also makes it effective as a filter for a wide range of unwanted compounds found in water or air (to a point — it isn't a cure for all unwanted compounds, but it is helpful for many).
Activated charcoal is a natural product. If you are like me, the more I can do to care for my family and home with non-chemicals, the better. Charcoal fits that need! As I mentioned before, it is used for purifying air and water, helps with some stomach issues in some people, drawing out certain poisons, and so forth, is used in some toothpastes, decaffeination processes, gold purification, metal extraction, as a medication, and more. It follows that it has other benefits too: Did you know that it is used as a facial mask for deep-cleaning? Yup! Some say it helps reduce the appearance of large pores (I'll take that!) and guess how I (and other soap makers) like to use it? We include it in some of our soap bars as an extra benefit to getting clean! I have learned from the things I read, that activated charcoal can help to draw out dirt, dust, chemicals, toxins, and bacteria. Then as these come to the surface of the skin, it is much easier to wash them away. To me, that's like soap and charcoal in partnership!
The Irony of Charcoal
It's funny how something so messy as charcoal turns out to be just what we need to be clean! If you open a bag of charcoal powder as I do when making soap, you get the black soot on your hands and find yourself washing it off like you would the dirt from your garden. Ironically, this dirty powder is helpful for purifying!
What can charcoal soap do?
Charcoal soap can remove dead skin cells, draw out dirt and balance oily skin, treat eczema, treat psoriasis, leave your skin feeling smooth, and can help your pores to be visibly smaller.
Is charcoal soap good for your skin? Yes!
Can you use charcoal soap every day?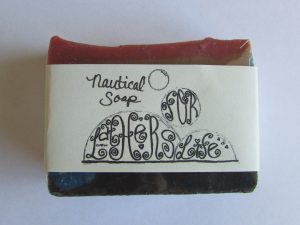 Using charcoal soap once daily is a possibility if your skin is responding well, but I would probably limit it to that. In fact, from my research, I would say that 1 to 3 times a week is a good place to start with charcoal soap, and that may even work perfectly for you!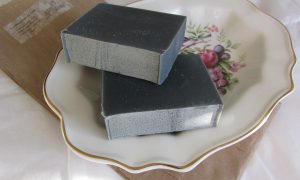 Many soap makers include charcoal in some of their soaps. I have 3 choices available in my shop (and may increase to more in the future). Presently, you can find the artistic Nautical Soap for Men (although everyone will find it to be a nice scent), Birchwood Bay Soap (also with men in mind), and Unscented Charcoal Soap (I started making this one regularly as it was a customer request).